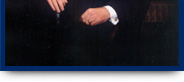 Before going to court: Try Mediation
Mr. Scarborough is certified by the Tennessee Supreme Court as a Professional Mediator in both General Civil Law and Family Law. He believes that wherever possible the conflict which is produced by lawsuits and court proceedings should be avoided.
Since 1990, Mr. Scarborough has practiced mediation in family, church, business, and personal injury cases. He received 120 hours of basic and advanced training in mediation in 1990 and 1991 from the Center for Dispute Resolution in Boulder, Colorado and Settlement Consultants International in Dallas, Texas and has conducted mediation training in Tennessee.
To keep his personal injury and wrongful death clients out of court, Mr. Scarborough uses his mediation skills whenever possible. Lawsuits and court proceedings are time-consuming, expensive, and stressful. Mr. Scarborough has developed systems and methods of intensive investigation, thorough medical evaluation, and skilled negotiation techniques which are designed to keep his clients out of court.
Personal Injury & Wrongful Death Home Page