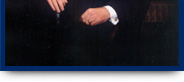 Our Objectives In Representing You
1. To resolve your claim fairly, fully and as promptly as circumstances permit.
2. To keep you, our client, out of court wherever possible so as to protect you from stress, time loss, and the expense this causes.
3. To make certain that your medical evaluation has been thorough and complete. We have a nurse on staff to review all client medical records and ensure that the medical evaluation is complete.
4. To do all of the above with as much speed and thoroughness as the circumstances permit.
Personal Injury & Wrongful Death Home Page