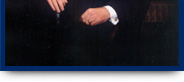 How We Handle Your Case
Should you decide to retain us and we agree to accept your case, we will move quickly to do the following:
1. Obtain any crash report or other investigative reports.
2. Obtain a release from any injured client in order to be able to get access to all medical records.
3. Ask you a series of questions which will give us the basis for initiating your case.
4. Arrange for an investigation of the crash and surrounding circumstances.
5. In the event the crash involved a drunk or drugged driver, we will ask your permission to contact a MADD or RID chapter in your area to enlist their help.
Personal Injury & Wrongful Death Home Page