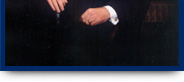 How We Charge For Our Services

• Our fees begin at 20% and are structured in a stair-step fashion upward from there according to the type of case, the difficulties involved, the duration of the case, and its complexities.
• We explain this fee schedule fully in our initial consultation which is done without charge.
1. We do not charge for an initial consultation whether done by phone or in person.
2. We will travel to wherever you are anywhere in the state of Tennessee as needed. We do not require that clients come to us.
Personal Injury & Wrongful Death Home Page