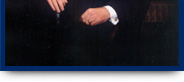 Mr. Scarborough's Experience
Mr. Scarborough and his wife, Ramona, are active in many ministry activities: radio programming, columns for religious publications, writing from a Christian perspective for newspapers, seminars and conferences for churches, and support for other ministries, including the Samaritan's Purse and several foreign mission efforts.
Radio Programming
For five years, Mr. Scarborough was heard weekly on a live Christian radio program broadcast from American Family Association in Tennessee. Topics ranged from international issues to politics to legal problems.
Writing for Church Publications
Some years ago, Mr. Scarborough began a column entitled "Law & The Christian Life" which focused on legal problems from a Christian perspective. Baptist state newspapers across the country as well as the Pentecostal national magazine Forward, among others.
Mr. Scarborough wrote an in-depth column entitled "Law & Your Church", for the Southern Baptist national magazine Church Administration. Articles from this column have also been published in the Pentecostal national magazine Forward, and online with Asbury Theological Seminary.
Seminars & Conferences
Mr. Scarborough conducts seminars for churches and pastors on a range of topics. The most popular is "Keeping Pastors and Churches out of Legal Problems."

Church & Ministerial Home Page