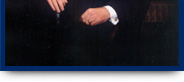 Are You Fully Insured?
Ms. Jo Owens was in her car, waiting to make a turn, when, without warning, her car was struck violently from behind.
Unfortunately, Jo was arthritic and had been under treatment for that and other conditions. She was permanently disabled from her injuries and their effect on her preexisting conditions.
Jo was a classic example of the law's protection for those with weakened bodies or preexisting conditions. Those who negligently cause injuries are liable also for the aggravation of their victim's preexisting conditions. Jo had one other advantage: she and her husband Richard had wisely made certain their auto insurance included UM (uninsured and underinsured motorist) coverage with high limits.
Their foresight in purchasing this additional coverage was to benefit them greatly. The other driver only had minimum coverage ($25,000) which could not even pay Jo's medical bills much less her lost wages, pain and suffering, or disability claim. Because of her UM coverage, we were able to seek a settlement of her claim not only against the other driver's insurance company, but also against her own.
This turned out to be quite an effort. Initially, Jo's own insurance company refused to acknowledge the extent of her disability. Richard and Jo were understandably upset. My task was to develop the medical evidence to prove their claim, as well as a strategy to put significant pressure on the insurance company to pay full policy limits, or, in other words, the maximum amount Richard and Jo were entitled to under their coverage. The effort was a success - without going to court - and through it all I reminded Richard and Jo that their foresight in purchasing high limits of uninsured and underinsured coverage had made this success possible.